Meet Laura Lehman, O.D.
Optometrist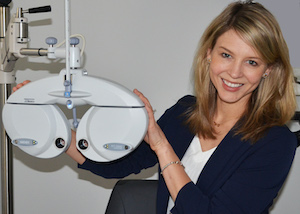 Dr. Lehman's journey to become an optometrist started at a young age.  As a 4th grader, Dr. Lehman underwent the first of three eye surgeries.  After the first surgery, Dr. Lehman remembers wearing her new, trendy sunglasses that her grandparents had bought for her when a nice lady in the hospital elevator told her that she looked like a movie star!   Through her own challenges with her eyes, Dr. Lehman has developed a strong empathy for people who struggle with eye issues. Dr. Lehman knows firsthand how confident the right pair of glasses can make you feel and how much better life is with clear vision.
Dr. Lehman graduated with a B.S. in Life Sciences from Penn State University in 2003.  She still loves to visit State College and attend PSU football games and walk around and shop downtown.   After Penn State, Dr. Lehman moved to Philadelphia to attend the Pennsylvania College of Optometry, where she graduated with a Doctor of Optometry degree in 2007.  While attending the Pennsylvania College of Optometry, she completed clinical rotations and received training at the Eye Institute in Philadelphia, Einstein Medical Center in Philadelphia and the Ralph H Johnson VA Medical Center in Charleston, SC.  She received additional training at private primary care practices in Miami, FL and Nashville, TN.  While receiving her education and training at PCO, Dr. Lehman received specialized training in pediatrics.
In 2018, Dr. Lehman decided to start her own optometry practice in Malvern, PA after working for more than a decade at busy medical practices in Fort Washington, PA and Richmond, VA.  It has been her professional dream to be able to start her own practice where she could be in full control of the patient's experience.  She wanted to offer her patients a positive, caring, and relaxing atmosphere where patients would receive the personalized attention that they deserve.  Dr.  Lehman is passionate about diagnosing and treating ocular disease. She has extensive experience treating dry eye syndrome, ocular allergies and infections, and managing macular degeneration and glaucoma in patients. She provides comprehensive eye exams where she focuses on getting to know her patients and educating them in eye health and the options available to them.  She takes pride in her ability in contact lens fittings as well as co-managing cataract and LASIK eye surgeries.  Dr. Lehman utilizes a state of the art automatic refraction system that allows her to achieve the most accurate eye prescriptions.
Dr. Lehman's husband, Matt is a Chemistry teacher at Great Valley High School.   The Lehman family loved Malvern and the Great Valley School District so much that they decided to move to the Malvern area in 2015 to raise their family.  Their two daughters are currently enrolled in the district.  Outside of the office Dr. Lehman enjoys spending time with her family, being in the outdoors, traveling, and fitness.