Neurolens® Technology
Treatment for Millions Who Suffer from Headaches, Neck/Shoulder Pain and Eyestrain From Using Digital Devices
VisualEyes Optique is passionate about eye health and eye issues caused by vision misalignment. Dr. Lehman personally struggled with her own misalignment issues, so she's dedicated to helping her patients find viable solutions while providing compassionate eye care. This is why she offers Neurolens® Technology.
Click here to book a screening appointment or keep reading to learn more about this cutting-edge technology.
What are neurolenses?
Neurolenses are prescription lenses that include a unique contoured prism. A global first, neurolenses are designed to treat the eye strain, shoulder pain, headaches, and neck pain that a full 65 percent of the adults in the United States complain about.
Neurolenses can help those who suffer from symptoms like vertigo, headaches, nausea, dizziness and panic attacks. These are commonly experienced after a car accident, head injury, concussion, whiplash or traumatic brain injury (TBI).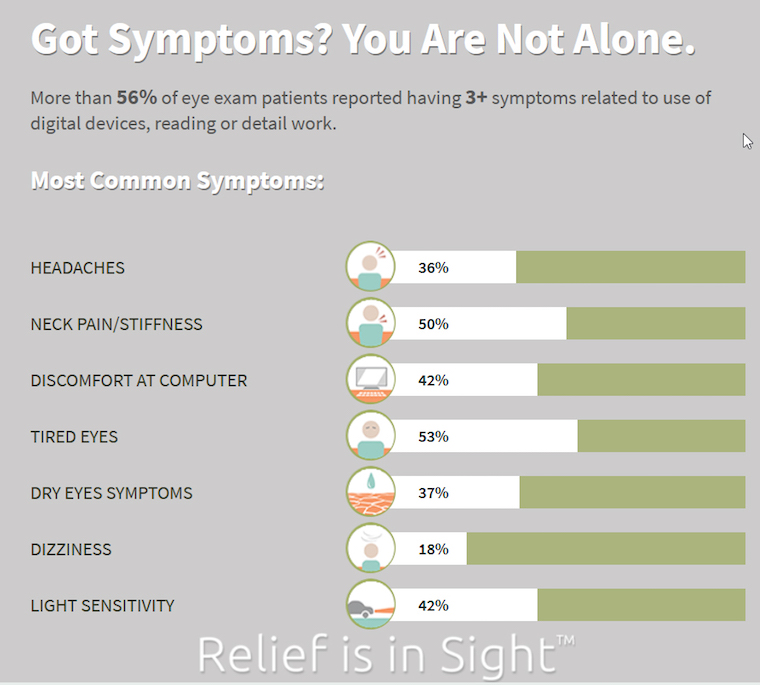 While seeking the care of a neurologist, headache specialist and/or migraine specialist is often part of the treatment plan for dealing with the above symptoms, neurolens® technology can be a viable option for those who haven't found relief from these other practitioners.
How do neurolenses work?
Your brain and your eyes work together and are constantly communicating with one another. If your eyes are not correctly aligned, your brain must work harder in order to balance them together. Because of this imbalance, some people have pain around or in their eyes, stiff neck, eye strain, dizziness, upper back pain and migraines. Neurolenses were designed especially to address this increasingly-common imbalance and enable smooth and natural communication between your brain and your eyes.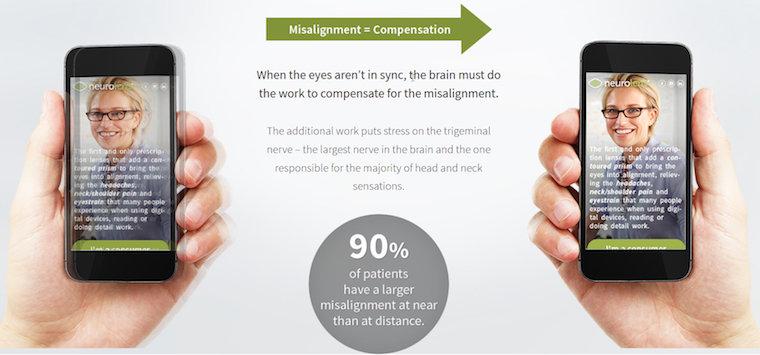 Using specially designed glasses lenses, the misalignment of your eyes is corrected. It's believed that the trigeminal nerve is overstimulated as the result of your eyes being misaligned, a condition also known as ocular misalignment. When the misalignment is corrected, it's likely that the overstimulation of your trigeminal nerve will result. Your symptoms will likely improve and you'll frequently see a significant reduction in them.
How are neurolenses different?
Patient Testimonials
For more information and video testimonials, check out the Neurolens YouTube channel.
Are you suffering from headaches due to migraines, concussions, blurry vision and/or digital vision syndrome?

Dr. Lehman provides compassionate, dedicated and experienced eye care and treatment options for those in Malvern, PA and the surrounding areas. If you live in the region and have been suffering from any of the aforementioned symptoms, the passionate staff at VisualEyes Optique would love to help you!
Schedule an appointment today to discuss neurolens® treatment or to seek more information about this exciting treatment option.